Pictures of the current state of the fruit are shown below. This year we will have the delicious and ever popular Sweetheart lychee fruit. For various reasons there will be little to none of the other varieties this year. Sadly, a combination of factors contributed to this situation. The first and most significant was the hard freeze that hit Highlands County and the second and less important was the Erinose mite problem. I will provide more information on the mite issue in a more comprehensive update. Forunately, this issue is fairly easily controlled with a non-toxic treatment.
The 2022 lychee fruit season wil be here during the first week of June. We expect to have Sweetheart fruit available from early to mid June. This past winter was cool and has helped with the issue of flowering, but the hard freeze that hit Central Florida damaged the crop in Sebring. Nevertheless, we will still have lots of great Sweetheart fruit available to begin the season. Our later ripening fruits, such as Mauritius and Brewster are still indeterminate as of yet, but indicaitons are that there will be very few Brewster and Mauritious if any.
At some point moving forward we hope to have our long anticipated Luscious Lychees Syrup available for shipment. We are presently working on and perfecting our recipe and will be testing it amongst our friends and relatives.


Sweethearts coming to you soon.


This season's ripening Sweetheart.


Fast approaching ripeness Sweetheart fruit.
We enjoyed Sweethearts, Mauritius, Brewster, Emperor and Kaimana lychees unlike the past 5 years. The warm winters in Florida experienced since 2016 are unlike any in past years. We need chilling temperatures below 68 degrees F for decent bloom induction in lychee trees. The 68 degree temperature was established during research years ago in Australia, the largest Southern hemispherelychee producer.
We will anxiously await this years winter temperatures (hopefully cool, but not freezing). Let's hope we get cool days so that next January and February will see massive blooms on our indigenous lychee crop.
January and February are the critical months for lychee tree blooming. If we get the right quantity of hours below 68 degrees Fahrenheit there is a high probability that we will have bloom. In fact, this is what happened, and we are seeing the results now. We are getting bloom on all the major varieties which include Sweetheart, Mauritius, Brewster and Emperor. The video below provides a visual update. The fruit should be set and ripening by April and at that point we can make more accurate predictions about the late Spring crop. watch video
The Emperor lychee has some unique characteristics that distinguish it from the Sweetheart, Mauritius, and Brewster varieties. It is a mountain variety, originating in the mountain rain forests of Thailand and southern China. The tree has a diminuitive habit of growth and a distinctly smaller leaf. It is one of the varieties that does very well in a container and will fruit in the container. We often recommend this type for growers in the north who keep their trees in greenhouses during the freezing months. It is the largest of all of the major lychee varieties, in some cases attaining an almost plum like size (10 - 11 fruits to the pound vs 18-22 per pound) if the fruits are thinned. The flavor is a cross between a Brewster and Mauritius with a distinctive sweetness, but lacking the tartness of the Mauritius. The seed is large, unlike the Sweetheart, but it makes up for this by its large size.
What is most interesting is that the winters in Florida are consistently becoming warmer. We are now seeing productive groves as far north as Fellsmere and Vero Beach. Lychees are growing as far north as Lakeland. Six years ago these trees would have been frozen out during the winter, but not now. How long this situation will last is anybody's best guess. The original lychee groves in the 1930s, 1940s and 1950s,according the the journal of the now defunct Florida Lychee Growers Association were primarily in Highlands County and Sarasota area. A series of very hard freezes beginning in 1963 wiped out most of these plantings and growers moved into the Redlands. With real estate prices for raw land becoming very high this situation will not likely repeat itself should the climate start becoming cold again.
Of an historical note, the Brewster lychee was the first lychee fruit introduced into the US by the Reverend William Brewster, who was a missionary working in China prior to 1900. Reverend Brewster planted out a grove of these trees right around the turn of the century (1900) along what is now known as Davie extension road in Davie, Florida. From this original planting came the trees that ended up in groves extending into Central Florida, including the Sarasota area and Highlands County. A succession of hard freezes occurring in the early 1960s drove the fledgling lychee industry into the Homestead area of Miami-Dade County. Most of the trees in the original Brewster grove still remain and have grown to enormous size.
We are shipping at the end of May. We will send out an email as soon as we are ready to ship. When we do please Select Next Day Air or SECOND DAY AIR Shipping unless you are in Florida. If you live outside of Florida please DO NOT select Ground shipping. If you live in Florida feel free to call us and we will arrange for the less expensive ground shipping (954) 648-6020.
To Order

Fresh Brewster Lychee Fruit Click Here: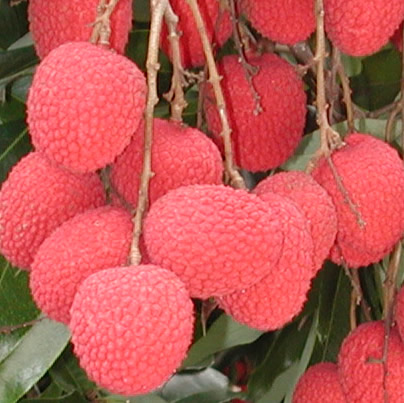 A Cluster of Brewster Lychee Fruit.



To Order
Fresh Emperor Lychee Fruit Click Here: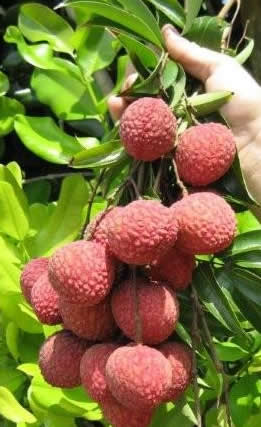 A Cluster of Emperor Lychee Fruit.


To Order Fresh Kaimana Lychee Fruit Click Here: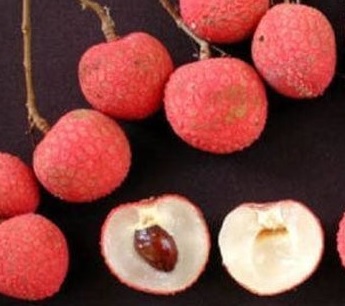 A Cluster of Kaimana Lychee Fruit.
To Order Mauritius Lychee Fruit - Shipping June Fresh Mauritius Lychee Fruit Click Here: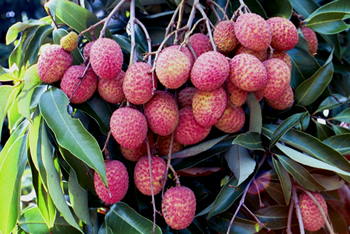 A Cluster of Mauritius Lychee Fruit.




--->

In a typical lychee season the trees flower sometime between the middle of January through the end of February. It appears that this was the case during 2019. Ideally, the trees should enter the winter season in a state of dormancy (no active growth flushes). If we experience cool weather (temperatures below 68 degrees F) then there is a good chance that bloom flushes will occur. That is exactly the case this winter as we had many days of cool weather and we are hoping that this will portend a good fruit season, although we will not know for sure until early March as to the extent of the crop. It is always bad luck to predict the lychee crop before the fruit has set.

Last year was a so so year for lychee fruit. Perhaps one of the worst on record. So, statistically, like hurricanes, we are in store for a bountiful year with all of the varieties coming available. The first fruit is generally the Sweetheart, followed close on by the Mauritius and then the Brewster. We may have other varieties available such as the Emperor, Kaimana and Ohia, but we shall see.

The following video provides an overview of the bloom state of at least Sweetheart lychee trees. From the looks of the Mauritius and Brewster trees the fruit season will witness a smooth continuity of fruit from Sweetheart to Mauritius and Brewster and possibly Emperor and other rare varieties towards the end of the season in late June and early July.

The following video shows myself and David Lang and Sweetheart lychee trees.David handles all of the retail fruit sales and will be managing locations in Davie, West Palm Beach and Weston. He can be reached at (561) 577-6135 preferably via text.
Flower panicle with early fruit set and flowering trees in the grove
Sweetheart lychee fruit approaching ripeness
I will be available to consumers and growers this season for advice..
To View Photos of Sweet HeartTM lychee fruit: Sweetheart Fruit Closeup