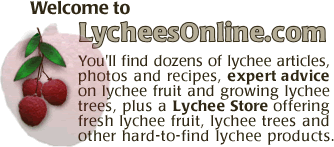 ---
The 2018 Lychee Season is just about to begin - May Update
The fruit are ripening and getting close to the picking time. As you can see in the accompanying video the Mauritius fruit are a couple of weeks away from the beginning of picking. This year is a mixed grill. It appears as though there will be no Sweethearts. While this may be very disappointing to some, it is much better than prior years when we had nothing and I might add that the Brewster is the best tasting of all the lychee fruit (when it is ripe). Apparently all of the set fruit dropped off the trees, just when things were looking good. I do not know the reason for this, but I will be investigating and hope to have an answer by next year. On the other hand we will have plenty of Mauritius and a good quantity of Brewster fruit towards the middle of June and I believe late into July, from our northern groves.
This is precisely why I always say "don't bet the farm". I was sure the Sweetheart crop was going to be very good this year and it is turning out to be the worst bust in 5 years. Oh well! Nevertheless, Brewster fruit are the best tasting when they are properly ripened. By this I mean the bumps on the skii\n are smooth and the fruit has turned a purple-red color. Beware of fruit that is simply red and not smooth. The same goes for Mauritius. Watch the latest video update.
In a typical lychee season the trees flower sometime between the middle of January through the end of February. It appears that this is going to be the case during 2018. Ideally, the trees should enter the winter season in a state of dormancy (no active growth flushes). If we experience cool weather (temperatures below 68 degrees F) then there is a good chance that bloom flushes will occur. That is exactly the case this winter as we had many days of cool weather and we are hoping that this will portend a good fruit season, although we will not know for sure until early March as to the extent of the crop. It is always bad luck to predict the lychee crop before the fruit has set.
Last year was a terrible year for lychee fruit. Perhaps one of the worst on record. So, statistically, like hurricanes, we are in store for a bountiful year with all of the varieties coming available. The first fruit is generally the Sweetheart, followed close on by the Mauritius and then the Brewster. We may have other varieties available such as the Emperor and Ohia, but we shall see.
I will provide another video update in early and mid March.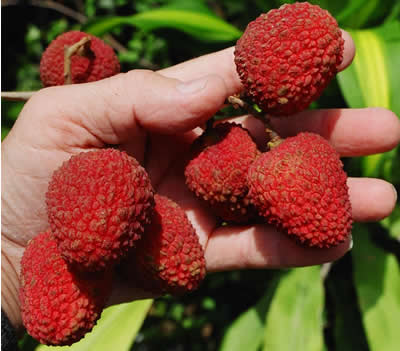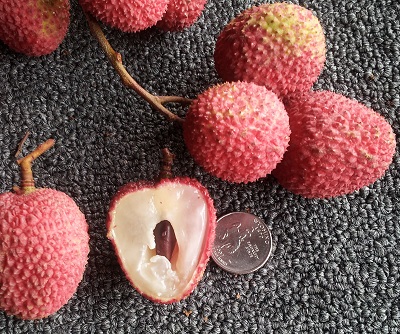 A Cluster of Sweetheart Lychee Fruit. A Cross Section of Sweetheart Lychee Fruit.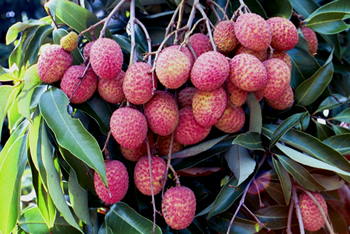 A Cluster of Mauritius Lychee Fruit.
The following video provides an overview of the bloom state of at least Sweetheart lychee trees. From the looks of the Mauritius and Brewster trees the fruit season will witness a smooth continuity of fruit from Sweetheart to Mauritius and Brewster and possibly Emperor and other rare varieties towards the end of the season in late June and early July.
The second video demonstrates an example of set fruit that is quite far along. This fruit set at the end of November of 2016. On some years this sporadic early bloom occurs and results in fruit which is ripe from early to mid May. It appears as though we will get some of this early fruit. The accompanying photo shows a closeup of such a bloom panicle with set fruit.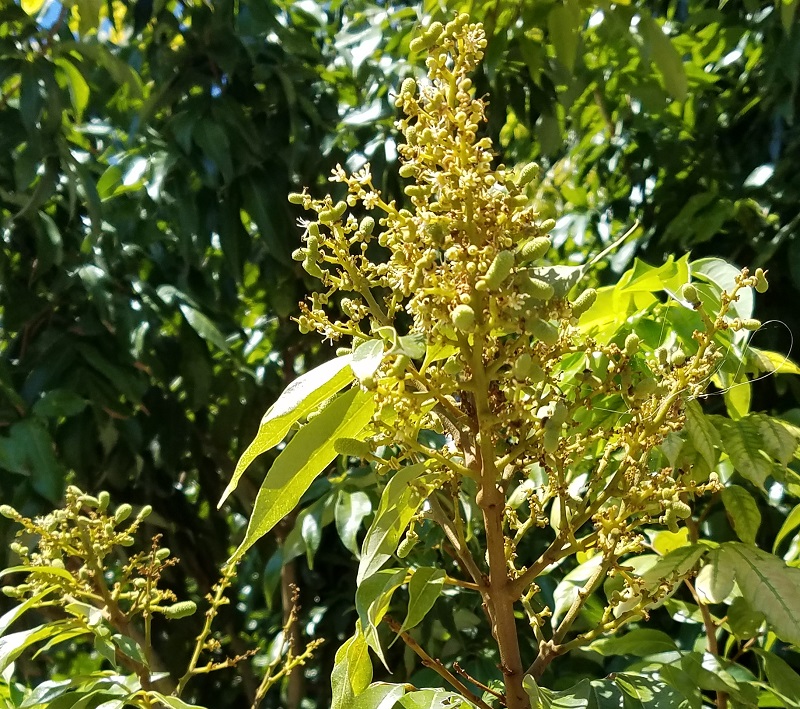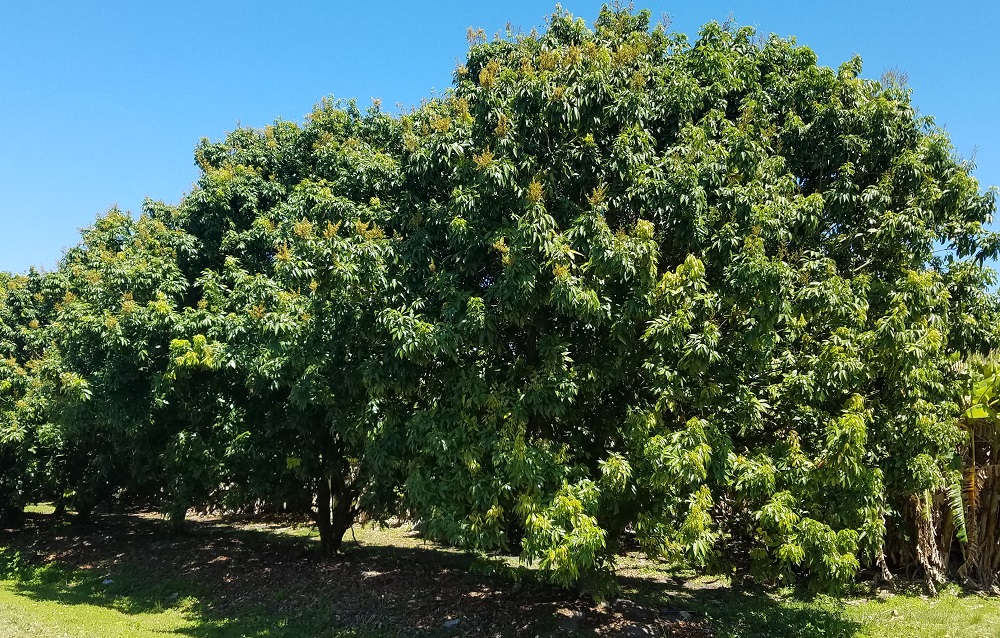 Flower panicle with early fruit set and flowering trees in the grove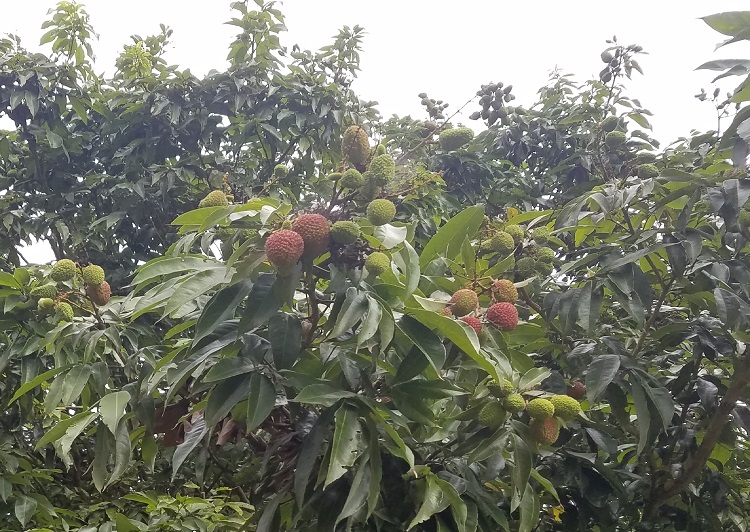 Sweetheart lychee fruit approaching ripeness
I will be available to consumers and growers this season for advice, unlike last year when I was in India for 5 months and unable to adequately follow up on questions and support. Unfortunately, where I was living in Tamil Nadu province in Southern India I did not have the opportunity to sample local lychees, only rambutans, mangosteens and Jack Fruit. While these are all great tropical fruits, even fresh mangosteens, reputed to be the "king of all fruits" do not hold a candle to a freshly chilled, properly ripened Sweet Heart lychee fruit.
To View Photos of Sweet HeartTM lychee fruit: Sweetheart Fruit Closeup
This Months Featured Articles: Studies Show that Lychee Derived Extract May Reduce Stress Related Cortisols
According to the March 2017 issue of Life Extension Journal Lychee fruit can play a significant role in reducing oxidative stress, inflammation and lower cortisol levels. Increased levels of cortisol can contribute towards the aging of internal organs and the overall appearance of aging. In addition elevated cortisol can lead to higher mortality rates and enhance the risk of diabetes, cardiovascular disease and other neurodegenerative disorders.
Lychee polyphenol products contain long contain long chain polyphenols, not easily absorbed in the digestive system. A proprietary process has been developed which reduces the polyphenol molecule chain size, which makes the compound far more bio-available.
Studies have shown that participants had significant decreases in cortisol levels and well as that of the inflammatory cytokines IL-1 beta and IL-6. Read Article.
In another study the endurance capacity of of individuals involved in a double blind randomized controlled trial using oligomerized lychee fruit extract (OLFE) and a mixture of vitamin C and E were tested with intriguing results. Read Article
Lowering cortisol can be very helpful in controlling obesity, hypertension, blood sugar, bone density and neurodegeneration. Lychee derived oligonols may contribute to this objective and we will continue to keep you informed of the latest dietary advances associated with anything Lychee.
| | |
| --- | --- |
| | In this short video Bill provides four early updates (One in late February, the second in mid March, the third early April and the fourth in Mid May) to the 2018 Lychee Season and explains the state of the bloom. |
| | |
| --- | --- |
| | In the short video Bill provides a tour in the Sweet HeartTM grove and demonstrates how to eat a Sweet Heart. |
Many lychee enthusiasts have requested a tutorial on how to propagate lychee trees via the method know as "air layering" or marcotting. Air layering involves stripping a circumferential section of bark from an appropriately shaped branch and applying an enclosed container of rooting material, generally sphagnum moss. Within the air layer the exposed edge of cambium begins to differentiate into lateral roots. After about 8 - 10 weeks this container is full of roots and is capable of surviving independently as an individual tree when removed from the parent.
The following video demonstrates how this first step in propagating a lychee tree is easily accomplished. To view this tutorial click on the following link https://youtu.be/_381-2CKdAA.
For the first time we are offering Dragon Fruit (Hylocereus undatus). Perhaps many of you have observed this fruit for sale in the specialty fruit department of some supermarkets.
A dragon fruit is a form of tree climbing cactus that has a beautiful night blooming flower. The flower resembles the head of a dragon when in full bloom and for this reason the "dragon" name. There are many varieties and the fruit is very attractive and delicious.
Commonly chilled and served fresh this attractive fruit has mild combined tastes of pear, kiwi and watermelon adding to its culinary versatility.
Dragon fruit is high in fiber, low in fat, high in antioxidants and is purported to have many other health benefits.
By the way it also makes a famous "Dragontini"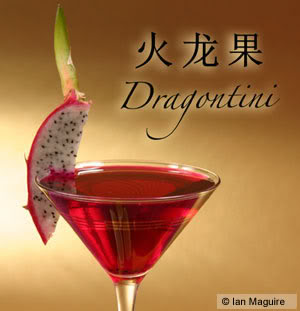 A Dragontini Gold
Try a delicious Dragontini
A refreshing exotic Dragontini
Click here fot the recipe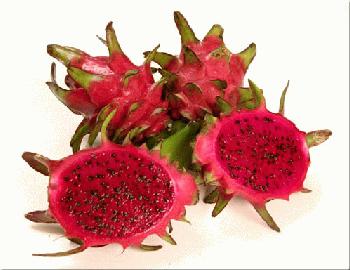 Dragon Fruit and cross section.

Past experience has taught us to be very careful in predicting lychee or any tropical fruit crops. Expressions like "don't bet the farm" and "don't count your chickens before they hatch" are all too true in agriculture and we have learned the hard way many times over so it is that we do not want to get overly optimistic. The accommpanying videos show the progression of the fruit from flower to partially developed fruit.
It is interesting to note that if one reads old copies of the long defunct Florida Lychee Growers Association journal you realize that most of the lychee cultivation in Florida, during the 30s, 40s, and 50s was in the Sarasota and Highlands County area. A succession of hard freezes in the 1960s caused most all of the lychee tree plantings to move into Miami-Dade county (Homestead). A very similar situation happened to the Florida citrus industry, where a succession of hard freezes drove much of the citrus industry from central Florida further south. There was a point in time , many years ago, where citrus was grown as far north as Tallahassee. The collapse of the South Florida real estate market and the low prices paid for lychees were two major factors responsible for the disappearance of many small groves in Miami-Dade and Broward County.
With the growing popularity of lychee fruit and the corresponding increase in demand for the product, prices paid to growers are improving and we expect this will lead to more extensive plantings in agricultural zones that are changing. Many areas where field landscape or citrus groves were planted are adaptible to lychee cultivation. With vacant land prices low again it is our hope that more serious growers will emerge.
One of the major challenges facing anyone who wants to start a lychee grove is the capital investment and relatively long time required to reach financially sustainable production levels. It takes at least seven (7) years before the trees come into full production. This is Florida and seven years is a lifetime when one considers the various kinds of natural disasters that can occur. Hurricanes, hard freezes, floods, pestilence, low prices, accidents etc. are among some of the natural challenges that present themselves to prospective growers. Still, when your first crop materializes it is a great day and all of the years of waiting are worth it.
The upshot of all this is that if you plan to grow lychee fruit you really need to have more than one tree. Even in some of the bigger northern groves there was only about 20% fruit set. I usually recommend that prospective growers plant out two of each fruit variety to insure production throughout the 6 – 7 week season and it is a well known fact that lychee trees set more fruit when in the presence of other varieties. This is especially true with regards to Mauritius lychees.
The reason for the above described situation is that lychee trees put out different flower types during the progression of the flowering event. Typically, lychee trees will initially put out male flowers followed by female flowers. If Brewster and Mauritius trees are out of sync then the probably increases that there will be viable pollen when the receptive stigma of the female flowers emerges. To learn more about this read the article on lychee tree flowering Flowering in Lychees
I still continue to hear a very common question: "Why didn't my lychee tree bloom this year. This is the third year in a row. What am I doing wrong?".
The answer to this is a bit counter-intuitive. I often tell fellow growers that the trees in our grove that fruit every year, fruit every year. What does that mean? Trees which produce fruit get "pruned" when the fruit is picked. Lychee fruit is harvested with a pruning shears as one usually clips a panicle from the terminal end of a branch several inches below the beginning of the panicle base. This induces a growth flush which in turn sets the growth flush clock to a known period of time, thus increasing the probability that the trees will enter the winter months in a state of dormancy so that if there is a cold spell when buds are beginning to emerge the buds will morph into bloom spikes.
Even if your lychee tree produces no fruit any given year you should always prune it post harvest. The middle of July is a good time for this activity. In areas where lychees are grown commercially this process is often accomplished with a commercial hedging machine such as what is used to hedge citrus trees.
The Brewster bloom this year is modest. The bloom this year came in mid January through mid February, and the fruit is repining normally. It typically, requires about 90 days for the fruit to mature once the fruit has set. That being said I would expect this Brewster fruit crop to become available in mid June.
Our Sweetheart trees put out a moderate bloom this year as a result of the cool days in January and February.
*** Sign Up for Our Newsletter and Get the Latest Info on When Fresh Lychees Will be Available (See above right hand side) ***
---
Lychee Extract May Reduce Abdominal Fat: Study
A recent study conducted in Japan at the Department of Medical Management and Informatics, Hokkaido Information University, concluded that a low molecular weight polyphenol (Oligonol) from lychee may reduce abdominal fat in people with metabolic syndrome.
To read an extract of the article Click Here
to read a summary of the article in NutraIngredients.com Click Here
---
Featured Lychee Recipe - Grouper with a Lychee Chile Veloute
View Recipe and Preparation Procedure - - Master Chef Peter Krause has created a marvelous recipe using fresh lychee, grouper and chile. The recipe is brilliantly illustrated in painstaking graphic and audio detail. In all of our years of collecting and compiling recipes, that incorporate lychee, we must flatly say that this is the very best yet and sets the platinum standard for lychee cuisine. Come and feast your eyes and palate on this masterpiece. We convey our enthusiastic gratitude to Peter for sharing his recipe with those of us who love lychee.
---
Featured Lychee Article
Learn the Particulars about Lychee Flowering - - Almost every one who grows a lychee tree asks the same question: Why doesn't my tree bear any fruit? This is a common problem with lychee trees and the answer and solution make for an interesting discussion. This article, divided into 5 parts, explains the morphology of lychee flowers and will help both the backyard grower and commercial farmer in identifying essential characteristics of bloom pannicles as well as methods to overcome the reluctance of lychee trees to annually bloom.
---
---
Lychee Information Center
Free Lychee Information - Browse dozens of tips & articles about lychees including their origin, nutrition, varieties, propagation, planting, many aspects of growing lychee trees, soil conditioning and the soil food web. Some of the articles are written by us, some are submitted by guest contributers and others we have reprinted from a variety of government and non-profit organization websites that have great information about lychees already written. As part of our ongoing effort to provide you with a central source for lychee information, new articles are added at least once a month. Browse Articles
---
Free Lychee Bar & Restaurant Finder
Lychee Bar & Restaurant Finder - Are you looking for a good lychee martini? If you are looking for a bar or restaurant that serves lychee drinks or lychee dishes near your home, office or travel destination, the Lychee Bar & Restaurant Finder can help. The establishments are grouped by state and provide phone numbers, addresses, type of establishment and whether they serve lychee dishes, drinks or both. You may also submit a new listing for a restaurant, bar or nightclub that serves lychee dishes or drinks. Find a Bar or Restaurant
---
Free Lychee Idea Kit
Get your Free Lychee Idea Kit by Email with buying tips on fresh lychee fruit. Plus you will receive fruit updates during the lychee season so you will know the best time to buy your fresh lychee fruit! More Info
---
What's New on Our Website

You can now send any of our photos as a ecard in our Lychee Photo Gallery



Our Free Lychee Idea Kit has been updated.
---
| | |
Copyright © 1999-2010 Lychees Online
info@lycheesonline.com www.lycheesonline.com (954)648-6020
---
---

Plus we will notify you when the lychee fruit is ripe and ready to eat! Learn More...
---

Join our Lychee Newsletter and get seasonal updates, tip & info on growing lychee trees and buying fresh lychee fruit. Learn More...
---