Other Fresh Tropical Fruit
Rambutans, Jackfruit, Longans, Dragonfruit, Thai Guava - call for availability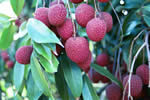 Fresh Lychee Fruit
(also called lychee nut or litchi)
Available mid-May thru June, each lychee fruit that is picked is personally hand selected by us for the quality & ripeness. We pick no lychee before it's time!

Your lychee fruit is picked & shipped the same day for maximum freshness, right from the tree to your door.

IMPORTANT NOTE: For us to guarantee freshness the fruit, when ordering fresh lychees you must select Next Day or Two Day Air as the shipping option unless the shipping destination is in Florida.

Allow 2-3 business days for your order to be processed. We pick and ship lychees on Mondays, Tuesdays & Wednesdays. If you select Next Day shipping or are located in Florida we can pick and ship your order on Thursdays.

You can pick up your fresh lychees if you are in the area and receive a discount on your lychee fruit.

Lychee Trees
Our lychee trees in 3 gallon containers are approximately 3'-4' high. The lychee trees are grown out from air layers and should begin fruiting the first season you have it.
All of our container lychee trees are treated with MycoStim and RichEarth, the growing supplies we carry in our shopping cart.
Shipping charges are approximately $15.00 - $30.00 per tree and a handling fee of $15 per tree to cover the wooden frame necessary for safely shipping the tree.
Lychee trees are shipped out within a few days of ordering or sometimes up to 2 months from the time of your order depending on the time of year, shipping destination and weather conditions the tree will encounter during transit. Please call us if you have any questions about your shipping date.
7 gallon, 10 gallon and 25 gallon lychee trees are available for pickup (call for an appt) or the large trees can be shipped or delivered by truck depending on your situation and location. Professional installation in South Florida is available for an additional fee. Please call us for more details.
NOTE to CALIFORNIA RESIDENTS:
You cannot order through our shopping cart. Please call us and place your order. There are additional charges and restrictions that we must apprise you of that are not covered in our shopping cart. The minimum tree order to California is two trees with a $47.50 shipping and handling charge and there is a $55 per shipment Phyosanitary certificate charge. This is required by the California Department of Agriculture.

Canned Lychee Fruit
We offer a few different varieties of canned lychees for you to choose from. Each can contains approximately 17-20 lychee fruit that has been peeled, seeded and canned in approximately 1½ cups of sugar syrup.

Lychee Puree
Lychee juice puree and lychee juice concentrates, used for making mixed drinks, sorbets, smoothies or pouored over ice cream.

Lychee Products
Lychee Gummys, Dried Lychees, Lychee Honey, Lychee Gel Cups, and more!

Growing Supplies
We carry a few lychee growing supplies like fertilizers and mycorrhizal fungi root/soil treatment that are great for lychees. We only carry growing products that we actively use ourselves in our grove and container lychee trees.

Lychee Jam
Made from the best quality lychee fruit. Lychee jam is of the best ways to experience the taste of lychees when fresh lychees are out of season.

Composters
Compost is an essential component for growing healthy lychee trees. The easiest and most economical way to create an endless supply of high quality organic compost is with a backyard composter. The output from a composter forms an ideal organic and safe fertilizer for your lychee trees. No longer do you have to worry about damaging tree roots or killing beneficial soil organisms with conventional NPK fertilizers.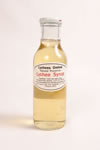 Lychee Syrup
Great for Lychee Martinis, ices, bubble tea and natural lychee flavoring.

Lychee Juice
Ceres Lychee Juice from South Africa and Yeo's Lychee Juice in a can from Malaysia

Lychee Tea
Lychee Black Tea - loose tea and tea bags, both are imported from China

Lychee Gel Cups
Lychee Gel Cups
Buy single gel cups and specify exactly how many you want or try a whole jug of 42 for better value. We reserve the right to substitute any other comparable brand of lychee gel cup based on import availability.

Lychee Clothing
Lychee Themed Clothing

Lychee Skin Care
Our line of Luscious LycheeTM skin care products is based on an authentic lychee fragrance made for us by a perfumer in Thailand. The fragrance captures the fruity and floral notes characteristic of fresh lychee fruit with a sensual, earthy undertone.

Mugs & Coasters
Lychee photo mugs, coasters & box sets.