The famous and delicious Brewster fruit are ready and we are pciking them. The Brewster is the sweetest of all of the lychees. Even more so than the Sweetheart and is along with the Mauritius one of the two commerically grown lychees in Florida.
Much of the fruit are ripe or becoming fully ripe and we have begun picking. We expect to have fruit this week and will begin shipping Brewster fruit from our Indiantown grove next week.
Of an historical note, the Brewster lychee was the first lychee fruit introduced into the US by the Reverend William Brewster, who was a missionary working in China prior to 1900. Reverend Brewster planted out a grove of these trees right around the turn of the century (1900) along what is now known as Davie extension road in Davie, Florida. From this original planting came the trees that ended up in groves extending into Central Florida, including the Sarasota area and Highlands County. A succession of hard freezes occurring in the early 1960s drove the fledgling lychee industry into the Homestead area of Miami-Dade County. Most of the trees in the original Brewster grove still remain and have grown to enormous size.
Please Select Next Day Air or SECOND DAY AIR Shipping unless you are in Florida. If you live outside of Florida please DO NOT select Ground shipping. If you live in Florida feel free to call us and we will arrange for the less expensive ground shipping (954) 648-6020.

To Order Fresh Brewster Lychee Fruit Click Here: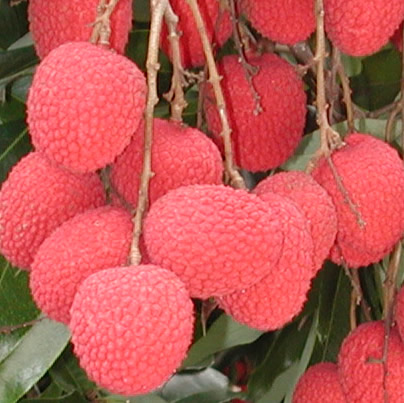 A Cluster of Brewster Lychee Fruit.
In a typical lychee season the trees flower sometime between the middle of January through the end of February. It appears that this is going to be the case during 2018. Ideally, the trees should enter the winter season in a state of dormancy (no active growth flushes). If we experience cool weather (temperatures below 68 degrees F) then there is a good chance that bloom flushes will occur. That is exactly the case this winter as we had many days of cool weather and we are hoping that this will portend a good fruit season, although we will not know for sure until early March as to the extent of the crop. It is always bad luck to predict the lychee crop before the fruit has set.
Last year was a terrible year for lychee fruit. Perhaps one of the worst on record. So, statistically, like hurricanes, we are in store for a bountiful year with all of the varieties coming available. The first fruit is generally the Sweetheart, followed close on by the Mauritius and then the Brewster. We may have other varieties available such as the Emperor, Kaimana and Ohia, but we shall see.
To Order Mauritius Lychee Fruit - Shipping May - June Fresh Mauritius Lychee Fruit Click Here: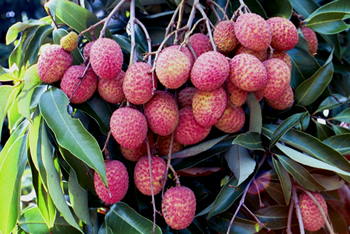 A Cluster of Mauritius Lychee Fruit.
The following video provides an overview of the bloom state of at least Sweetheart lychee trees. From the looks of the Mauritius and Brewster trees the fruit season will witness a smooth continuity of fruit from Sweetheart to Mauritius and Brewster and possibly Emperor and other rare varieties towards the end of the season in late June and early July.
The second video demonstrates an example of set fruit that is quite far along. This fruit set at the end of November of 2016. On some years this sporadic early bloom occurs and results in fruit which is ripe from early to mid May. It appears as though we will get some of this early fruit. The accompanying photo shows a closeup of such a bloom panicle with set fruit.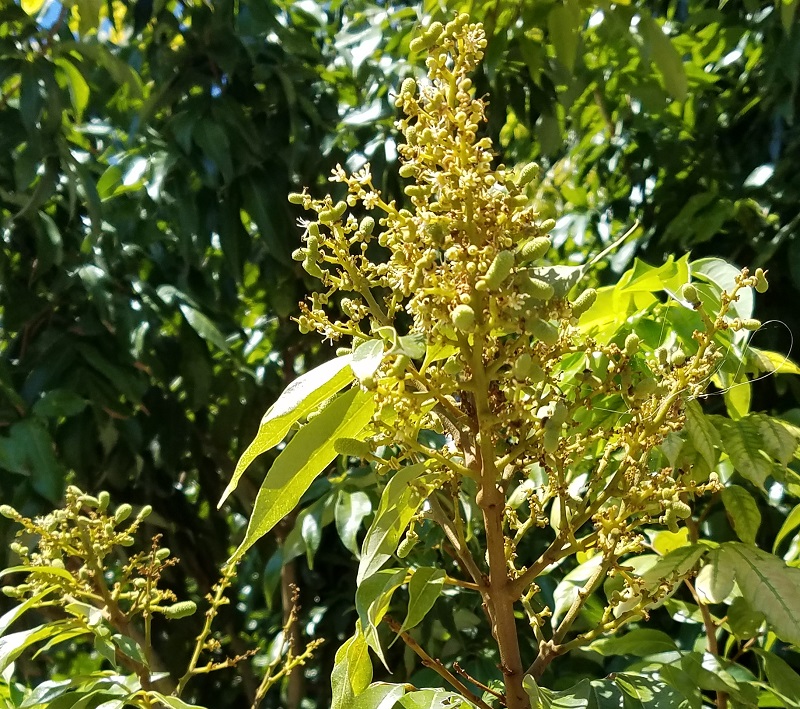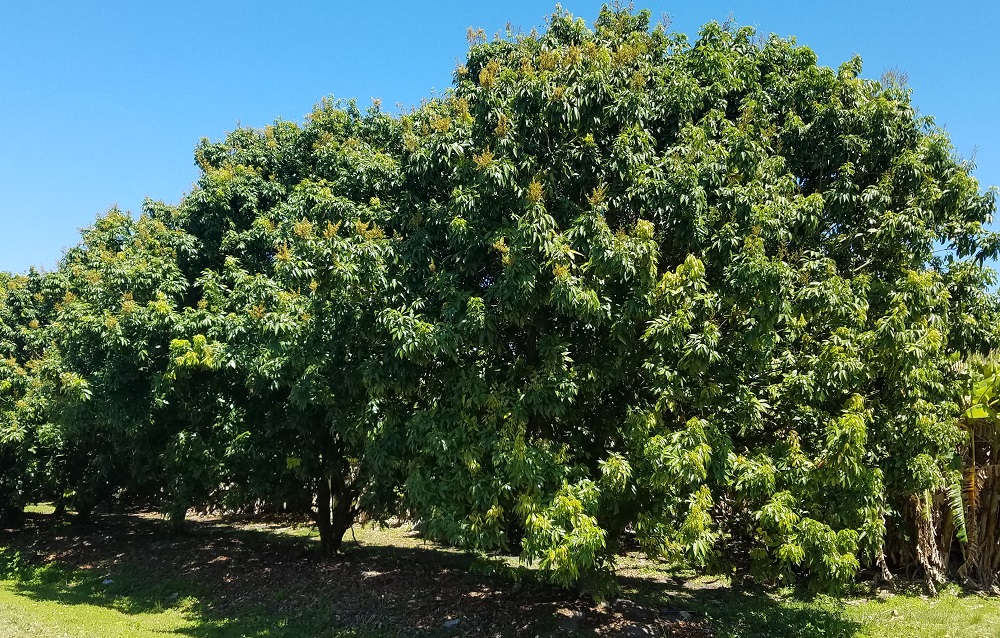 Flower panicle with early fruit set and flowering trees in the grove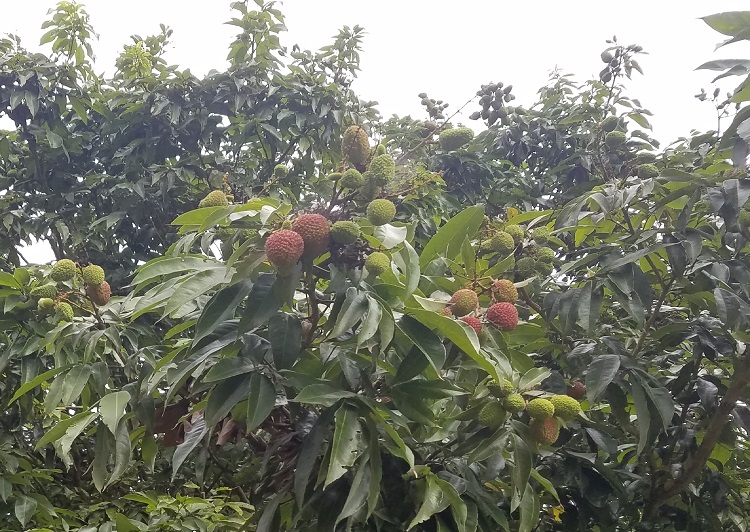 Sweetheart lychee fruit approaching ripeness
I will be available to consumers and growers this season for advice, unlike last year when I was in India for 5 months and unable to adequately follow up on questions and support. Unfortunately, where I was living in Tamil Nadu province in Southern India I did not have the opportunity to sample local lychees, only rambutans, mangosteens and Jack Fruit. While these are all great tropical fruits, even fresh mangosteens, reputed to be the "king of all fruits?do not hold a candle to a freshly chilled, properly ripened Sweet Heart lychee fruit.
To View Photos of Sweet HeartTM lychee fruit: Sweetheart Fruit Closeup