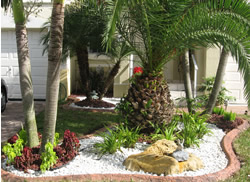 Stamped borders showcase specimen palms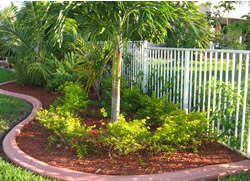 We can create borders and supply all of the plants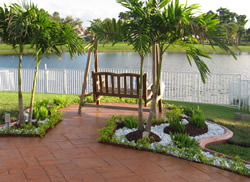 Stamped concrete patios and supplemental landscaping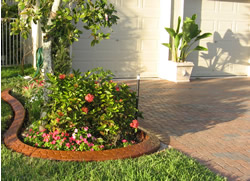 Stamped borders and custom driveway pavers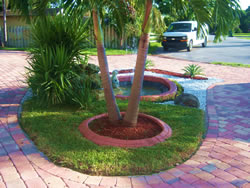 Fountains, pavers and stamped concrete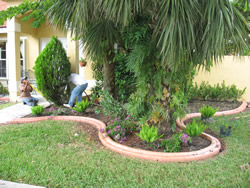 Gorgeous borders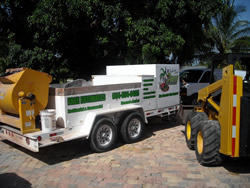 Design and Installation
We will meet with you and review your requirements and goals and gather data on the specifics of the property to be landscaped.
From this data we will develop a design and a budget.
When you approve the the design and the cost we will proceed to the installation phase.
Our experienced crew will prepare the site and begin installation of the irrigation (if required) and the plant material.
If the project involves stamped concrete borders these will be installed prior to the application of plant material
What You See is What You Get
In most cases we will photograph your property and use our state-of-the-art CAD (computer aided design) software to layout your landscape. You will be able to visualize your future landscape before the first earth is moved.
Plant Selection
Lycheesonline maintains and is affiliated withextensive nursery facilities. We have plants in containers ready to go into the ground and we have mature trees in our field nursery ready to be transplanted to your site.
Because we have our own nurseries we can provide the most competitive pricing on plant material
If you are looking to add striking specimen trees to your landscape we recommend that you tour our nursery and select the centerpieces that will be the focal point of the finished design.
Irrigation and Wells
Our experienced landscapers have years of experience in the design and installation of irrigation systems.
We will determine your water requirements and if you need a well we will assist in obtaining the necessary permits and oversee the drilling of the well, pump installation and layout of the in-ground piping and control system.
Landscape and Tree Maintenance
At Lycheesonline we have the equipment and the staff to handle any size maintenance project.
We can handle a single home or a multi-unit apartment project.
If trees require trimming we have certified arborists on our adjunct staff to provide advice.
Full Bobcat and Backhoe Service

With our Bobcats and Backhoes we can perform site excavation, grading, debris removal as well as large tree moving. In short, we have the equpment to get the job done without having to use outside contractors.


Most Affordable
Our prices will always be lower than any other supplier and our installation costs are among the most competive in the industry.